Classification Society's Key Role in 'Viking Grace' Success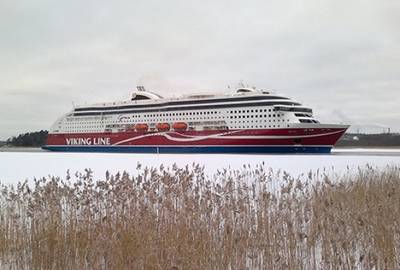 The world's most environmentally friendly large passenger ship, 'Viking Grace', delivered by STX Finland, & maiden voyage tickets a sell-out.
Apart from its unique green credentials, the vessel's two standout features are its LNG-powered Wartsila engines and its safe return to port compliance technology.

Such was the vessel's much anticipated arrival that tickets for its maiden voyage from Turku to Stockholm were sold out months in advance. Interestingly, Viking Grace, with its almost emission-free performance, will be ideally suited to the sensitive and delicate waters of the Baltic Sea.

Lloyd's Register played a significant role in helping the vessel's owner, Viking Line, and builder, STX Finland, handle the complexities of its LNG tanks on the stern deck and four Wartsila 8L50DF engines as well as its regulatory, class and operational requirements.

"Not only does this ship have LNG as fuel gas technology installed but it is also designed for safe return to port compliance. This involves advanced levels of control technology and risk assessment not traditionally applied to cruise ferries," said John Hicks, Lloyd's Register's VP for Passenger Ships.

"Attention to detail and the vast experience of Lloyd's Register's engineers have played a crucial part in supporting this project and ensuring the design review, testing and trials of this novel vessel have gone smoothly, providing confidence for a good future operating in the Baltic.

"Customer perception is optimum to the owner, Viking Line. This is clearly demonstrated by the number of passengers looking forward to the sold out inaugural voyage from Turku to Stockholm. LR is pleased to have played a part together with all those involved in providing a better experience in a better world," added John.