CN Invests $245mln in Expansion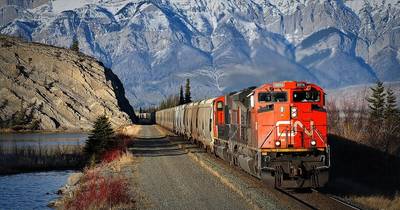 Canadian National Railway (CN) said it plans to invest more than $245 million in Saskatchewan in 2019 to expand and strengthen the company's rail network across the province.

"Following a record capital program in 2018, CN brought on 25% more qualified train conductors in Western Canada and added over 10% more active high horse power locomotives to its network. This year, CN is investing $35M more than last year to bring greater capacity to CN's mainline to benefit all commodities," said Doug Ryhorchuk, vice-president of CN's Western Region.

The Saskatchewan investments are part of CN's 2019 record $3.9 billion capital investment focused on enabling growth from all commodity segments, including consumer goods, grain, agricultural, forest, and energy products from all of our customers, safely and efficiently. Over two years, CN will have made a $7.4B capital investment.

"Whenever one company invests a quarter billion dollars into Saskatchewan, that's great news. And the fact that this investment by CN will help get our key export products to market faster makes the benefit even greater. This investment continues to demonstrate CN's commitment to our province and their customers who do business here," said Steve McLellan, CEO of the Saskatchewan Chamber of Commerce.

"The Regina & District Chamber of Commerce is pleased that CN will continue to invest in Saskatchewan thereby ensuring that Saskatchewan goods and products continue to have access to an ever increasing global market. Access to markets, particularly international, are vital to Saskatchewan's economy today and will be increasingly so well into the future," said John Hopkins, Chief Executive Office of the Regina & District Chamber of Commerce.

CN is currently deploying important safety enhancing technologies across its network, such as Autonomous Track Inspection Program, Distributed Air Cars, and Automated Inspection Portals. These innovations, combined with CN's investments in locomotives, capacity, infrastructure, and train crews, will support the safe and efficient movement of our customers' goods to their end markets.