Coastguard Detroit Medevacs Laker Crew Member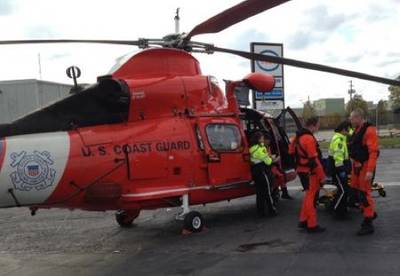 The air crew assisted Joint Rescue Coordination Centre Trenton, Ontario, with the medevac of a Canadian man injured aboard the 730-foot 'Algoma Enterprise', which was passing through the Pelee Passage in Lake Erie. The 57-year-old crew member was reportedly suffering from severe bleeding.

After conferring with the on-duty flight surgeon, the 9th District's SAR controller directed the launch of an air crew aboard an MH-65 Dolphin helicopter from Coast Guard Air Station Detroit, located on Selfridge Air National Guard base in the Northern suburbs of Detroit.

On arrival at the scene, the air crew lowered a rescue swimmer, who is a trained emergency medical technician, to the ship to facilitate the airlift. After the safe airlift of the patient, the air crew transported him to the Windsor, Ontario, Airport where emergency medical services were awaiting.

"The medevac was fairly routine because of all the training that we do not only with the commercial vessel fleet but also with our Canadian partners," said Lt. Jim Emrich, aircraft commander of the helicopter. "We train as often as we can so all our cases will run as routinely as possible."