USS Essex Collision Captain Removed from Command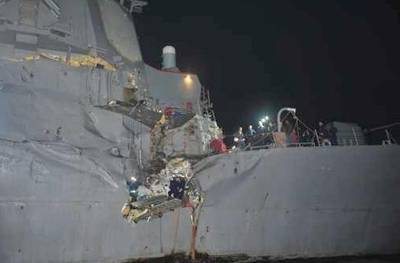 Navy investigation reports chaos on bridge of USS Essex last spring, leading to collision with oiler Yukon.

The Essex skipper's failure to properly lead his junior bridge watch team caused what could have been an "avoidable" collision, according to the report obtained by Navy Times through a Freedom of Information Act request. The findings shed new light on the May 16 collision off the coast of California, a day before Essex returned to San Diego.

For his role in the collision, Capt. Charles E. "Chuck" Litchfield was fired June 18 by Rear Adm. Gerard Hueber, the Expeditionary Strike Group 3 commander, as reported by Navy Times.

"The commanding officer failed to give clear, forceful direction to his crew when it was most needed," wrote Vice Adm. Gerald Beaman, the 3rd Fleet commander in San Diego, in his final endorsement of the investigation. "It was this lack of clear, forceful direction — not the collision itself — that caused my lack of confidence in his ability to command. Unfortunately, this commanding officer on this particular day, and under this specific set of circumstances, was unable to meet the challenge facing his crew."

The investigation found Essex's starboard rudder had become jammed. And while both ships managed to avoid colliding at their bows, inattention and poor communication over the next minute led to both ships to crash near their sterns.
Both ships remained stuck together for about a minute, with Essex's starboard aircraft elevator on Yukon's aft flight deck, before Essex got enough power to pull away.

Along with stripping Litchfield of command, Hueber recommended administrative actions for dereliction be taken against Essex's executive officer, officer-of-the-deck, conning officer and helm safety officer.