Papp Relieves Allen as Coast Guard Commandant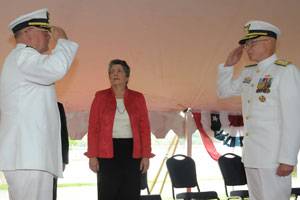 Adm. Robert J. Papp, Jr., assumed command as the 24th commandant of the Coast Guard on May 25, relieving Adm. Thad W. Allen during a military ceremony at Fort Lesley J. McNair in Washington, D. C.

During the ceremony, Secretary of Defense Robert Gates awarded Allen the Defense Distinguished Service Medal. Secretary of Homeland Security Janet Napolitano presided over the change of command and awarded Allen the Homeland Security Distinguished Service Medal.

While the May 25 ceremony marks the end of his term as commandant, Allen will continue to serve as the National Incident Commander for the Deepwater Horizon oil spill, managing an unprecedented response effort.

Papp reports to Coast Guard Headquarters from Portsmouth, Va., where he served as commander of Coast Guard Atlantic Area since 2008. In this position, he served as the operational commander for all Coast Guard missions from the Rocky Mountains east to central Asia, covering more than half of the world including the recent Haitian earthquake disaster response, Coast Guard support to Operation Iraqi Freedom and counter-drug operations in the Caribbean.

Allen became the 23rd commandant of the U.S. Coast Guard on May 25, 2006. He has led the largest component of the Department of Homeland Security, comprised of 42,000 men and women on active duty, 7,000 civilians, 8,000 reservists and 34,000 volunteer Coast Guard Auxiliarists. Allen's leadership in times of crisis includes the aftermath of Hurricanes Katrina and Rita, when he served as the principal federal officer responsible for response and recovery operations. Allen has led the Coast Guard through a remarkable recapitalization effort to replace an aging fleet of cutters, aircraft and sensors, as well as a modernization program to better organize, train, equip and deploy Coast Guard personnel to meet the challenges of the 21st century.