Warships in London for Battle of Atlantic Commemorations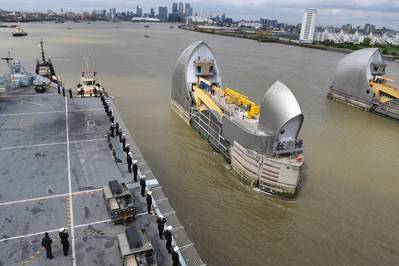 Three Royal Navy warships are in London to commemorate the 70th anniversary of the Battle of the Atlantic.
HMS Edinburgh, the last of the fleet's Type 42 destroyers, is on her first stop on a round-Britain farewell tour which ends nearly 30 years of service. She is joined in the capital this week by the giant helicopter carrier HMS Illustrious, and Sandown-class minehunter HMS Blyth for 6 days of events commemorating the longest military campaign of the Second World War, the Battle of the Atlantic.
Watched by hundreds of people on both banks of the Thames, HMS Edinburgh glided under Tower Bridge - where she faced a barrage of camera flashes from eager tourists - to berth alongside museum ship HMS Belfast, sister of her forebear, which was sunk in the Arctic 71 years ago.
Captain Martin Connell, the commanding officer of HMS Illustrious, said:

"We are delighted to be in London for the Battle of the Atlantic commemorations. HMS Illustrious has a very close affiliation with the city, which we will be aiming to strengthen further through a very busy programme of events.

It is, however, a very poignant occasion and we look forward to welcoming onboard some of those who served through the longest and one of the most costly campaigns of the Second World War."