ABS' Wiernicki Delivers Stevens Commencement Speech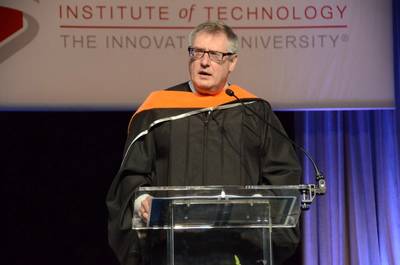 American Bureau of Shipping (ABS) chairman, president and CEO Christopher Wiernicki delivered the commencement speech at Stevens Institute of Technology's 2017 undergraduate graduation ceremony, where he was also awarded an honorary doctor of engineering degree.
Graduate's family members, friends and other well-wishers gathered at the Meadowlands Expo Center in Secaucus, N.J. on May 24 for the undergraduate commencement ceremony, applauding the more than 600 undergraduate students receiving bachelor of arts, bachelor of science and bachelor of engineering degrees.
In his speech, Wiernicki – a familiar figure at Stevens, having spoke at the dedication of the ABS Engineering Center last November – chronicled the long relationship between ABS and Stevens.
"Both organizations were formed in the mid-19th century and forged reputations for technological innovation and leadership. Today both organizations hold true to [that] initial purpose, but have taken [that] reach globally," he said.
That relationship, he added, continues to be strengthened by the many Stevens alumni who work for ABS in locations around the world. "Each in their own way has helped make ABS the organization that it is today, a recognized international engineering leader in the marine, shipping and offshore industries," Wiernicki said.
Wiernicki also spoke about his late father, John, a Holocaust survivor who was sent to the Auschwitz concentration camp at age 18, who passed on to him lessons in leadership born out of tragedy and heartbreak.
"His life is a story of a commitment to treat every person with dignity and respect, something that was ripped away from him during the dark days of World War II," Wiernicki said. "Leadership is about valuing relationships and connecting with people."
It was a message Wiernicki, a father of three, delivered to an audience of students who grew up
with smartphones
, Google and Facebook.
"Behind
every smartphone
is a person, someone with feelings, emotions, dreams and desires. Over the years, technologies have changed and will continue to change, but never forget these technologies are useless without people."