Kalmar's Proposal Received a Commendation Award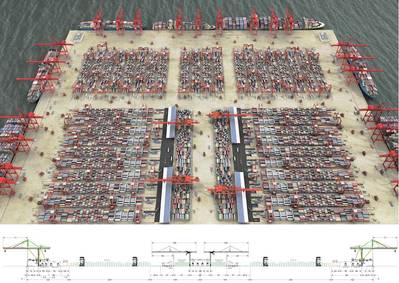 Cargotec's Kalmar, as part of a consortium, received a commendation award of $100,000 (USD) in the Next Generation Container Port (NGCP) Challenge at the Singapore International Maritime Awards on April 11.


The NGCP Challenge sought to identify innovative ideas on how to plan, design and operate the next generation of container ports that exemplify performance, productivity and sustainability.


Kalmar's proposal was prepared in close cooperation with Singapore Nanyang Technological University, APL Co Ltd, Fraunhofer IDM@NTU and VTT Technical Research Center of Finland.


"This was an exciting challenge, as it is about a real business case: to design the biggest, the most efficient and most sustainable terminal in the world, which can be built in the coming ten years. Our focus was to understand the key performance indicators given by the organizer and the local context. The key features in our design include an underground transportation system to separate the transshipment container movement from the vessel operation. Also, all equipment is electrical, so there are no CO2 emissions. Finally, our aim was to achieve a financially strong operation with no extreme constructions," commented Frank Kho, Vice President, Offering Development, Kalmar.


The challenge was organized by the Maritime and Port Authority of Singapore (MPA) and the Singapore Maritime Institute (SMI).


Seven proposals were shortlisted as finalists from a total of 56 submissions from 25 countries. The grand prize of $1 million was awarded to a team from National University of Singapore, Shanghai Maritime University and Shanghai Zhenhua Heavy Industries Company Limited. The international judging panel comprised representatives from Singapore government agencies and the maritime industry.