Burger Boat Returns to Commercial Boat Building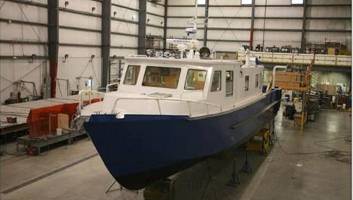 Burger Boat Company is pleased to announce the upcoming delivery of a 60' Fisheries Research Vessel, R/V Coregonus, to the
Wisconsin Department
of Resources in April 2011. This commercial vessel marks the reinstatement of commercial boat building for Burger Boat Company.
Vessel particulars are:
Hull type
Semi-displacement
Hull/Superstructure
Aluminum
Speed
20 knots @ full load
Propulsion
Twin Caterpillar C18's, 454 BHP
Area of operation
Great Lakes
Special features
Bow thruster, moon pool, folding transom dive platform, crane, lab area
Fishing equipment
Gill net lifter, trawl net reel, (2) trawl winches
Designer
SeaCraft Design LLC, Sturgeon Bay, Wis.