US Navy to Commission LCS Little Rock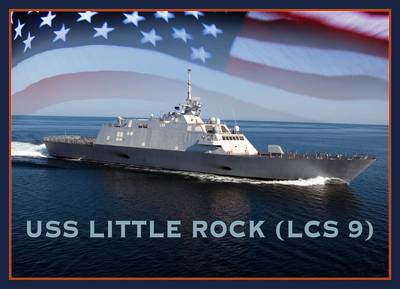 The U.S. Navy will commission its newest Freedom-variant littoral combat ship (LCS), the future USS Little Rock (LCS 9), during a December 16 ceremony at the Canalside waterfront in Buffalo, N.Y.
The future USS Little Rock is the 10th littoral combat ship to enter the fleet and the fifth of the Freedom-variant design. It is the second warship named for the Arkansas state capital and will be commissioned alongside the first USS Little Rock (CL 92), which serves as a museum at the Buffalo and Erie County Naval and Military Park.
Arkansas Senator John Boozman will deliver the ceremony's principal address. Janee L. Bonner, spouse of the Honorable Josiah "Jo" Bonner, a former U.S. representative from Alabama, is serving as the ship's sponsor.
The LCS-class consists of two variants, Freedom and Independence, designed and built by separate industry teams. The Freedom variant team is led by Lockheed Martin (for the odd-numbered ships, e.g. LCS 1). The Independence variant team is led by Austal USA (for LCS 6 and follow-on even-numbered ships). Twenty-nine LCS ships have been awarded to date: 11 have been delivered to the Navy, five are in various stages of construction and three are in preproduction states.