China Navy Commission New Guided Missile Frigate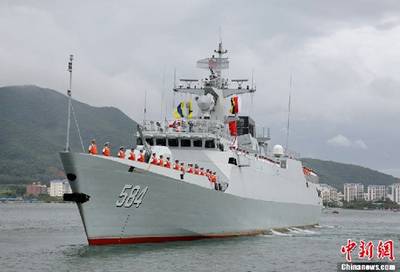 A ceremony for the frigate "Meizhou" of the Navy of the Chinese People's Liberation Army (PLAN) has been held at a naval port in Sanya in south China's Hainan province, officially naming & commissioning her to the South China Sea Fleet of the PLAN.

The "Meizhou" (584) is a new-generation light guided missile frigate independently developed by China. It integrates many types of weaponry and equipment, and features good stealth performance, great information integration, lower cost, easy operation and simple maintenance.


After its commissioning to the South China Sea Fleet of the PLAN, the new warship will mainly bear the responsibilities of carrying out offshore operations, patrol and surveillance, fishing and fishery resources protection and escort, and implementing such missions as anti-submarine operations independently or with other naval strength, so as to further improve the defense forces of the PLAN.

Source: China Military Online