"Most Powerful" Rescue Vessel Commissioned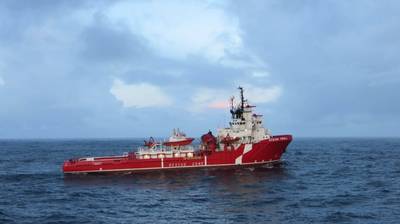 Aberdeen-based standby vessel operator Atlantic Offshore Rescue said it has commissioned what will be the U.K.'s most powerful emergency response and rescue vessel (ERRV).

The Ocean Troll – which recently completed a long term charter with Statoil – has undergone a £2 million conversion and overhaul at MMS in Hull to become a U.K. Class A ERRV with tanker assist and firefighting capabilities. Its home port will be Aberdeen and it will become Atlantic Offshore Rescue's principal relief vessel supporting the fleet in the North Sea.

The vessel transferred from Atlantic's Norwegian operation is part of a £300 million fleet investment program undertaken over the last three years by the Atlantic Offshore Group and is the start of the renewal of its U.K. Fleet. In recent months, orders have been placed by Atlantic Offshore Rescue for two high-specification TAV/ERRVs with one due to join the fleet in January 2014 and the other scheduled for completion in 2015.

Atlantic Offshore Rescue has been in operation since 1995. It manages a fleet currently sitting at 13 ERRVs (emergency response and rescue vessels) and four PSVs (platform supply vessels) out of Aberdeen.

It is part of the Atlantic Offshore Group which is based in Norway. Atlantic Offshore Rescue Ltd employs 350 people (approximately 330 seamen and 20 office-based staff) and provides multi-role offshore and emergency rescue and response vessels for many of the oil majors operating in the North Sea.

The three new ERRVs will secure employment for 90 seamen between them.

The 78-meter Ocean Troll is equipped with rescue craft including two Daughter Craft and two Fast Response Craft (FRCs). It is compliant with Norwegian legislation and can carry 300 survivors. With firefighting capabilities of 4x1800cum/hour, it has Bollard Pull of 150 tons and BHP 12560.

Atlantic Offshore Group currently operates a fleet of twenty four ERRVs (emergency response and rescue vessels) and PSVs (platform supply vessels), and manages further PSVs on behalf of a third parties.

The group's aim is to continue to expand its capabilities within both the Norwegian and British sector of the North Sea and to be able to provide cross-border solutions reflecting the needs of its clients for both ERRVs & PSVs.