US Navy Commissions USS Little Rock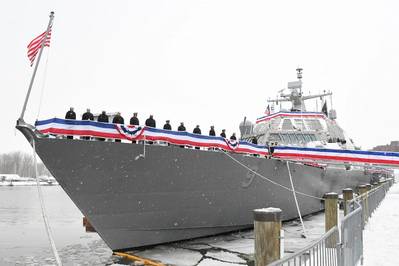 The U.S. Navy officially welcomed its newest littoral combat ship into its fleet during a December 16 commissioning ceremony in Buffalo, N.Y.

Constructed at Marinette Marine Corporation, Marinette, Wisc., USS Little Rock (LCS 9) is the Navy's fifth freedom-variant LCS. The fast, shallow draft vessel has a modular design capable of implementing a variety of mission packages as an asset to the fleet in both the shallow coastal regions as well trans-Atlantic service.

The ship was commissioned next to the first USS Little Rock, a Galveston-class guided missile cruiser (CLG 4). The commissioning ceremony marked the first time a U.S. Navy ship has commissioned next to her namesake.

Vice Adm. Luke M. McCollum attended on behalf of the chief of naval operations and was joined on by the Lieutenant Governor of New York, Kathy Hochul; Chairman of the USS Little Rock Namesake Committee Tom Prince; and the Mayors of Buffalo and Little Rock, Ark. The ship's sponsor is Janee Lambert Bonner, the wife of former Congressman Jo Bonner.