Austal LCS Contracts Signify Navy's Program Commitment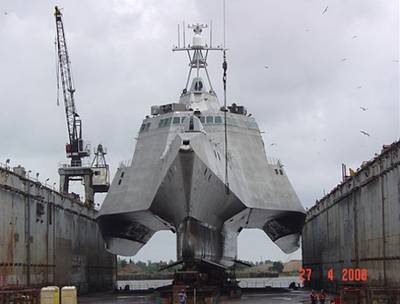 The US Navy has exercised contract options with Austal USA for the construction of LCS 14 & LCS 16.
Austal USA's order backlog has grown by approximately $681.7 million dollars as a result of two additional Littoral Combat Ship (LCS) contract options being exercised by the United States Navy.

The contract options fund construction of the LCS 14 and LCS 16, the fifth and sixth ships in the 10-ship block buy award made to an Austal-led team in December 2010. That 10-ship program is potentially worth over $3.5 billion.
Austal has been contracted by the U.S. Navy to build ten 103-meter JHSVs under a 10-ship, $1.6 billion contract, one of which has already been delivered, and eight 127-meter Independence-variant LCS class ships (including USS Independence, delivered to the Navy in 2009), six of which are a part of a 10-ship, $3.5 billion contract.

USNS Choctaw County (JHSV 2) and Coronado (LCS 4) have both been launched and are preparing for sea trials later this spring. Construction of another three JHSVs and two LCSs is also underway in Austal's Mobile, Alabama shipyard.

Austal Chief Executive Officer Andrew Bellamy said the company's U.S. Navy programs provide revenue and workload for years to come. "Austal's production of these revolutionary ships continues to expand and improve, simultaneously delivering better program outcomes for the Navy and improved financial results for the company's shareholders," he said.