DonJon Marine Completes Atlantic Traveler Salvage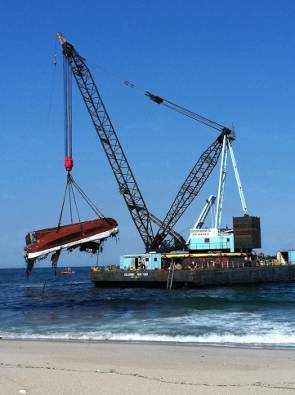 On May 11, the 70-ft fishing boat Atlantic Traveler sank after hitting the South Jetty of
Manasquan Inlet
off Point Pleasant Beach,
New Jersey
. Three crewmen onboard were rescued by the U.S. Coast Guard.
The vessel sank outside the south Jetty in an Ocean Environment in an upside down position. After more than three weeks of inclement weather, Donjon Marine was able to mobilize its 400-ton capacity Derrick barge Columbia, NY from its home base in Port Newark, New Jersey to perform the wreck removal of the vessel.
During the bad weather period, Donjon salvage crews, working from the beach, prepared the upside down vessel for lift by cutting holes through the hull for placement of the heavy lift slings. Once weather subsided, Donjon completed the salvage effort in one day. Due to the damage sustained to the vessel as a result of the sinking, the Atlantic Traveler will be cut up, and recycled.
"Donjon's effort on this project was multi-faceted and we are proud of the work that was completed in a timely and efficient manner," said John A. Witte, Jr., Executive Vice President,
Donjon Marine
.