Thrane & Thrane Completes Sailor 900 VSAT Delivery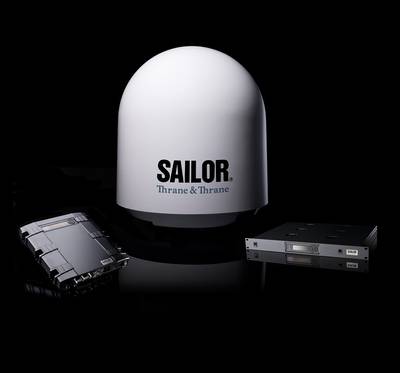 In partnership with PRO NAUTAS and Vizada, Thrane & Thrane has completed delivery of its sophisticated SAILOR 900 VSAT and SAILOR 500 FleetBroadband systems as part of a total communications solution for Hansa Heavy Lift's entire fleet of 21 multipurpose heavy-lift vessels. Installation and commissioning is expected to be completed on all vessels in July 2012.

Based on the Vizada XChange platform with project implementation by PRO-NAUTAS, the SAILOR 900 VSAT and SAILOR 500 FleetBroadband together ensure fully redundant global broadband connectivity and voice services. The solution platform provides automatic selection of the most effective connectivity technology – Ku-band or L-band – based on the current coverage, system performance and available airtime rates.

"In addition to crew and operational communications, the new communication solution aboard Hansa Heavy Lift vessels was chosen for its capability of enabling remote diagnostics and maintenance of the on board IT networks," comments Casper Jensen, VP Maritime Business Unit, Thrane & Thrane.

"Continuous remote monitoring for increasing fleet fuel efficiency and reducing emissions in addition to possibilities for reducing maintenance and service costs are driving the uptake of total solutions that feature both VSAT and MSS to ensure global coverage with least cost routing," continues Jensen.
SAILOR 900 VSAT was designed to streamline the whole area of VSAT procurement, making it easy for service providers to deploy Ku-band VSAT on a wider variety of vessels. It dispenses with troublesome and time-consuming testing, balancing and configuration of satellite antennas on board vessels, as Thrane & Thrane performs such necessary processes prior to delivery, ensuring fast and simple installation, and also greater operational reliability. In addition, the antenna is compatible with all Ku-band satellite systems globally.
SAILOR 900 VSAT has been on the market since September 2011 and has already made significant impact in the Ku-band market. In January 2012, Thrane & Thrane announced that it had been contracted to supply 290 SAILOR VSAT systems for a revolutionary communication solution being developed by Ericsson for a major global shipping company.