GLS Completes USCG Repairs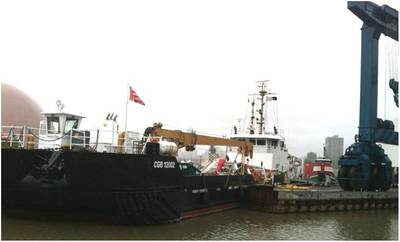 Great Lakes Shipyard Performs Emergency Repairs on USCG Aids to Navigation Barge.
United States Coast Guard Cutter MOBILE BAY of Sturgeon Bay, Wisconsin departed Great Lakes Shipyard, Cleveland, Ohio after completion of drydocking and repairs to the bow thruster on it 120-foot Aids to Navigation Barge. The barge was hauled out on Monday, September 17th using the Shipyard's 770-ton Marine Travelift.
The shipyard immediately removed the bow thruster and disassembled it in the shop for repairs. Upon completion, the unit was reinstalled and tested, and the tug and barge departed just three (3) days later, on Thursday, September 20th.
The USCGC MOBILE BAY is one of the nine (9) cutters in the Coast Guard's fleet of "Bay Class" icebreaking tugs. In addition to ice breaking and buoy tending, its other services include Maritime Law Enforcement, Search and Rescue, Environmental Pollution Response, and Homeland Security.
Great Lakes Shipyard is a full-service yard specializing in new construction and repairs of all types of vessels and barges. Recent completed projects include repairs on the Ohio Department of Natural Resources R/V GRANDON, construction and delivery of lime slurry tanks for Pittsburgh Tank, and construction and delivery of the Handy Size class tugboat HANDY-THREE for Puerto Rico Towing & Barge Co. The Shipyard's current orderbook includes maintenance and repair work on the USCG Cutter BUCKTHORN, modifications to the USACE Tug MIKE DONLON, and the construction of two state-of-the-art ASD tractor tugs for Caribbean Tugz, LLC, an affiliate of SEACOR Holdings, Inc.