Ampol Completes Unique Skimmer Vessels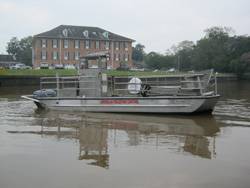 American Pollution Control Corp. (AMPOL), completed the acquisition and reconstruction of a newly restored shallow water skimmer vessel. Unique in its design and engineering, the vessel was altered to incorporate a dual outboard system and an independent hydraulic engine to a belt driven hydraulic system.
Vessel construction began with the hull. Subsequently, a conveyer assembly, hydraulic system and an outboard engine system were added to the skimmer. This specific skimmer took six months to complete and is now response ready. A test run was conducted on Jan. 19 and garnered exceptional results.
"Not only does this piece of equipment expand our skimmer inventory to two, it also reaffirms AMPOL's commitment to quality and innovation," said AMPOL CEO Kirk Headley. "Beneficial to our clients and the environment, the construction of this skimmer has broadened our response capabilities."