NSC 3, Stratton Completes Builder's Trials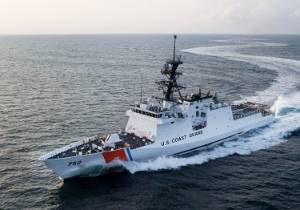 The third National Security Cutter, Stratton, successfully completed builder's trials in Pascagoula, Miss., Friday marking a significant step in preparing Stratton for delivery to the U.S. Coast Guard. Builder's trials are the shipbuilder's first opportunity to operate the cutter at sea and survey the current status of shipboard systems.
Teams from Huntington Ingalls Shipbuilding and Lockheed Martin Maritime Systems and Sensors operated propulsion, communications, damage control, weapons, aviation and small boat launch and recovery facilities and assessed the cutters underway performance during the five-day event. Personnel from the Coast Guard's Project Resident Office Gulf Coast and other subject matter experts from the Coast Guard Surface Forces Logistics Center, Stratton crew, U.S. Navy Supervisor of Shipbuilding Gulf Coast and Naval Warfare Centers were on hand to observe the trials.
"I am thrilled that Stratton has successfully completed builder's trials, which brings this magnificent ship one step closer to commissioning and performing the valued services for which she was built," said Coast Guard Commandant Adm. Bob Papp. "I look forward to a day when all eight national security cutters are complete and patrolling our Nation's coasts with their state-of-the-art capabilities engaged in protecting those on the sea, protecting America from threats delivered by sea, and protecting the sea itself."
Preparations for acceptance trials, conducted by the Coast Guard and the U.S. Navy's Board of Inspection and Survey (INSURV), can now begin with the successful completion of the builder's trials.
Acceptance trials are the final significant milestone before delivery and are used to ensure the cutter meets all contractual requirements. INSURV will evaluate all aspects of Stratton's systems and performance and based upon their findings make a recommendation regarding acceptance of Stratton to the Coast Guard.