Almar by North River Boats Recent Completions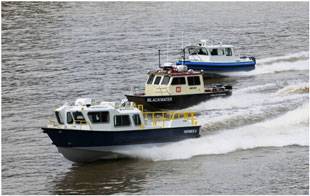 Almar by North River Boats Inc. of Roseburg, Ore. announced the recent completion of the following three boats:
1.) This is the fourth boat in a series of five 33' X 10' Sounder Pilot House built for Hydrographic Survey use. This boat is powered by twin Yanmar 315 hp diesel engines and Hamilton 241 water jets with a top speed of over 31 knots and a fuel capacity of 200 gallons.
The pilot house is equipped with two Coleman Seamach air conditioning units, a stand up head with electric toilet and wash basin for the comfort of the crew. The vessel is also equipped with a Ray Marine RAY 430 Hailer,
Motorola
Pro 5100 VHF radio, Motorola Pro 5100 UHF radio, Furuno FA150 AIS system, Ritchie Voyager D84 compass, and L.E.D. Courtesy lights.
Almar by North River Boats is currently building the fifth boat in this series and a slightly larger version to be used for Aids to Navigation.
2.) North River constructed this 25' X 8'6" Cathedral Hull Patrol / Rescue boat with 10' enclosed cabin. This vessel is powered by twin outboard Mercury 200 Optimax motors and has 100 gallon fuel capacity. The boat will mainly be used for Hydrographic Survey.
It is equipped with an Echotrac model MKIII-P survey echo sounder with remote display, DMS-05 Dynamic Motion Sensor, Digibar Pro DBP Velocimeter, McMurdo SmartFind Plus Category I Epirb, Garmin 546 GPS with Blue Chart, Icom F520 VHF radio, and a Furuno 1734 C/NT 7" radar.
3.) North River has also completed two (2) 23' X 10' Hybrid R.A.I.V. patrol boats with 8' enclosed cabin. These vessels are powered by twin Yamaha F225 outboard motors capable of around 45 knots and equipped with an 80 gallon fuel tank.
Electronics from Raymarine have been installed on this vessel including: C90 multifunction display, digital Radome radar and DSM 300 sounder module. The boat is also equipped with a Whelen responder public safety light bar, Motorola VHF and UHF radios, dual
Stainless Steel trumpet
horns, and L.E.D. lights.
North River Boats, Inc. is currently working on several other commercial vessels, including one (1) 40' X 12' Hybrid R.A.I.V. U.S.C.G. Sub Chapter T; (2) 33' X 10' Sounders; (2) 23' X 10' Hybrid R.A.I.V.; (1) 26' X 10' Hybrid R.A.I.V.; (11) 21' X 8' 6" Seahawk T Top and more. They also continue to build the USCG AB-Small project delivering a boat about every 10 days.