Dorian LPG, ABS Plotting 2020 Compliance Plan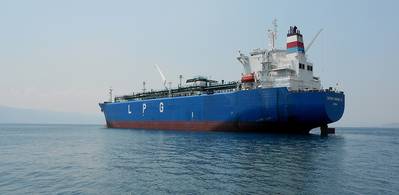 ABS said it has been selected by Dorian LPG to provide an in-depth techno-economic analysis, laying out compliance options for impending global sulfur cap requirements. Dorian LPG owns and operates a fleet of
very large gas carriers
(VLGCs), transporting
liquefied petroleum gas around
the world.
"It is important for owners and operators to assess their fleets and evaluate their options so that they can develop the most efficient compliance strategies as new requirements come into place," said ABS Chairman, President and CEO Christopher J. Wiernicki. "The Dorian LPG fleet of VLGCs provides an opportunity to investigate new fuels, such as LPG, among other conventional options, and we are excited to work closely with them as they develop strategies that meet their unique fleet profile."
"As we look ahead at the implementation date of the IMO's mandate to reduce sulfur fuel emissions, we are maintaining our strategy to ensure that our fleet remains efficient and cost-effective. Based on the environmental benefits of LPG as well as the large number of ports that have the existing infrastructure to deliver LPG to the global fleet, we are examining the potential of using LPG as a marine fuel," said Dorian LPG Chairman, CEO and
President John Hadjipateras
. "With their extensive knowledge in environmental regulations and technical prowess, ABS will play an important role as we prepare to meet the impending 2020 global sulfur cap requirements."
As owners begin to prepare for compliance with impending air emissions requirements, they want to be sure they have selected solutions that best meet their fleet needs. Through its techno-economic analysis, ABS offers guidance that gives owners and operators confidence in their compliance strategies.
ABS will help evaluate the various fleet compliance options, including LPG as a marine fuel, installation of scrubbers and use of low-sulfur fuels. It is important to fully understand the technical implications and risks of applying an alternative fuel source, such as LPG. Before options are considered, ABS will perform a comprehensive LPG as Fuel technical evaluation in order to define the most advantageous options to serve the needs of the specified vessel design. The evaluation will consider the applicable regulations, the design capabilities and limitations, the installation and safety requirements, the operating features and equipment restrictions.