Costa Concordia Removal Plan Presented Today In Rome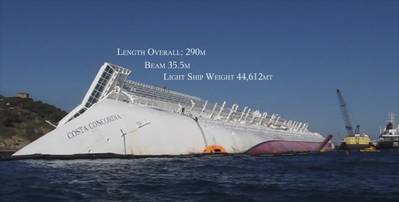 With Costa Concordia Emergency Commissioner Franco Gabrielli in attendance, Costa Crociere S.p.A. and Italo-American consortium Titan-Micoperi, the winner of the tender tasked with performing the work, today presented their plan to remove the wreck of Costa Concordia from the coast of Giglio Island.
Following a conference convened by the commissioner May 15, during which the relevant authorities provided the necessary permits, the work will begin in a few days and is expected to last about 12 months.
Titan Salvage , part of the Crowley Group, is an American-owned specialist marine salvage and wreck removal company and is a world leader in its field. Micoperi is a well-known Italian marine contractor with a long history as a specialist in underwater construction and engineering.
The plan to refloat the hull in one piece gives top priority to minimizing environmental impact, protecting Giglio's economy and tourism industry, and maximizing safety.
Environmental protection will have top priority throughout the monumental salvage operation, the likes of which has not been attempted before anywhere in the world. Once removal is complete, the sea bottom will be cleaned and marine flora replanted.
The plan also includes measures to safeguard Isola del Giglio's tourism industry and wider economy. Salvage workers' presence will not have a significant impact on the availability of hotel accommodations for the island's summer season. The operating base will be located on the mainland near Piombino, where equipment and materials will be stored, avoiding impact on the island's port activities.
Operations will be divided into four basic stages:

After stabilizing the ship, a subsea platform will be built and caissons that can be filled with water will be fixed to the side of the ship that is out of the water

Two cranes fixed to the platform will pull the ship upright, helped by the caissons, which will be filled with water

When the ship is upright, caissons will also be fixed to the other side of the hull

The caissons on both sides will then be emptied, after treating and purifying the water to protect the marine environment, and filled with air.
Once floated, the wreck will be towed to an Italian port and dealt with in accordance with the requirements of Italian authorities.
The plan was selected by an evaluation team with specialist representatives from Costa Crociere, Carnival Corporation & plc, London Offshore Consultants and Standard P&I Club, with the collaboration of RINA and Fincantieri, because it best fulfills the main objectives of the operation — removal of the wreck in one piece, minimal risk, minimal environmental impact, protection of Giglio's economy and tourism industry, and maximum safety.
"From the early stages of the accident, Costa Crociere has fully committed its resources, professional expertise and organization to minimizing the impact of the shipwreck on the environment and on Isola del Giglio in particular," said Gianni Onorato, Costa Crociere S.p.A. president. "As was the case with the fuel-removal operation, we have always worked to find the best possible and safest solution to protect the island, its marine environment and its tourism industry. We are now launching a salvage operation with characteristics and technical complexities that have never been faced before. There will inevitably be some unknowns in a project of this scope, but we are sure we have made the right decision and will continue to work to our best ability and on schedule."
"We are very pleased to have been chosen to perform this incredible operation to remove the wreck of Costa Concordia," said Richard Habib, managing director of Titan Salvage. "Our quality engineering and the experience we have gained in this area allowed us to present a project that met expectations. From now on we will work with the aim of preserving the environment and the natural habitat."
"We were confident from the outset that the professionalism of our company and our proven experience in underwater rescue and recovery operations could be of service to this salvage operation," said Silvio Bertolotti, general manager of Micoperi. "Being chosen is also a powerful demonstration of the quality and capability of Italian companies to manage such delicate and unprecedented projects."