AAPA 2016 Conference Focuses on Western Ports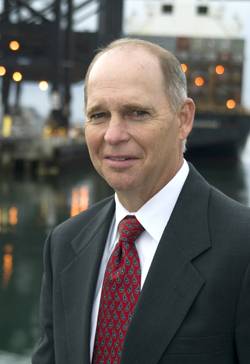 U.S. Transportation Secretary Anthony Foxx to keynote on April 6
High-ranking government officials, policy influencers, port authority CEOs and senior staff from throughout the Western Hemisphere, along with a host of maritime industry leaders will converge on Washington, D.C., April 4-6, to participate in the 2016 Spring Conference of the
American Association
of Port Authorities (AAPA) – the unified and recognized voice of seaports in the Americas.
Among the conference highlights will be a keynote luncheon address by U.S. Secretary of
Transportation Anthony Foxx
on April 6; an April 5 luncheon to kick off Western Hemisphere Ports Day – celebrating the unity and value of seaports throughout the Americas; an analysis of the 2016 U.S. presidential election by political columnist and commentator Charlie Cook; an interactive conversation on planning and coordinating the multimodal freight system between Maj. Gen. Ed Jackson, Deputy Commanding General for the U.S. Army Corps of Engineers' Civil and Emergency Operations, Capt. Paul "Chip" Jaenichen, U.S. Maritime Administrator, and Bud Wright, Executive Director for the American Association of State and Highway Transportation Officials (AASHTO); and perspectives on FAST Act implementation from Vinn White, Deputy Assistant Secretary at USDOT, Roger Bohnert, Deputy Executive Director of USDOT's Build America Transportation Investment Center (BATIC), and Rolf Schmitt, Deputy Director of USDOT's Office of the Assistant Secretary for Research & Technology at the
Bureau of Transportation Statistics
.

In addition, the annual event will feature discussions on the new International Maritime Organization container weight verification requirement; customizing messaging on economic impacts and jobs; changing energy demands and policies; port cyber and physical security needs and priorities; and leading port industry initiatives on environmental stewardship. Day one of the two-day program will also include member-only meetings of port directors, regional port delegations, along with executive and technical committees.

"In addition to having Secretary Foxx as our keynote speaker and kicking off Western Hemisphere Ports Day as a way to recognize the value of a unified seaports industry, we're looking forward to the many informative and provocative discussions at this year's Spring Conference," said AAPA President and CEO Kurt Nagle. "At the April 6 luncheon, AAPA will announce the results of our 2016-2020 Port Planned Infrastructure Investment Survey. We'll showcase the amounts U.S. ports and their private-sector partners plan to invest in port authority-related infrastructure and relate that to the amounts their federal partners need to invest in the land and waterside connections to those ports. I think the results will be surprising."

WHO: Hosted by American Association of Port Authorities and co-sponsored by TD Bank, Canadian National Railway, WSP Parsons Brinkerhoff, Boyden Global Executive Search, Saul Ewing, LLP, and the Port of New Orleans
WHAT: AAPA's 2016 Spring Conference event
WHEN: Tuesday and Wednesday, April 5-6
WHERE: Renaissance Washington DC Downtown Hotel, 999 Ninth Street NW, Washington, DC 20001