Connaughton Leads Delegation of U.S. Maritime Officials in Tokyo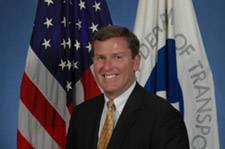 On July 24 and 25, Maritime Administrator Sean T. Connaughton led a delegation of U.S. maritime officials in meetings in Tokyo with Japanese counterparts to discuss issues of mutual interest and challenges facing the maritime industry, both around the world and in the bilateral trade. The talks reflected the major concern of both countries about the impact on the shipping sector of the rapidly expanding consumption of liquefied natural gas (LNG) around the world. With the surge of new specialized vessels to carry LNG entering service, the demand for qualified seafarers is becoming urgent. In meetings with 's Ministry of Land, Infrastructure and Tourism (MLIT), the two sides discussed the U.S. LNG Deepwater Ports initiative aimed at meeting demand, using the latest technologies for LNG transport and promotion of employment for trained seafarers on LNG ships. Connaughton said, "There is a robust market for skilled seafarers and an opportunity for maritime training institutions worldwide to help meet this demand."
The head of the Japanese delegation, Director General Ito of the MLIT Maritime Bureau, described 's national maritime strategy to increase the workforce of Japanese seafarers by 150 percent and to double the present size of the Japanese international shipping fleet over the next 10 years.
Other topics of discussion included port development, environmental protection, trends in the bilateral shipping trade and maritime security.
Connaughton also met with Hiroyuki Nishida, General Manager of the Ocean Policy Research Foundation, a non-governmental organization engaged in studies concerning a wide range of marine issues; Mr. Hisashi Yamamoto, Secretary of the International Association of Maritime Universities; and Yohei Sasakawa, chairman of the Nippon Foundation, 's largest charitable foundation and supporter of a number of maritime programs.