Consider These Things to Make Your Next Family Vacation a Success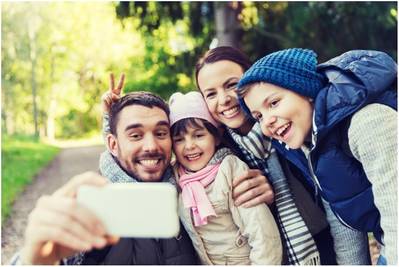 Gone are the days of packing up and flying away on a whim: you have a family now, which means your vacations require a lot of planning. This isn't a bad thing whatsoever; it just means that your trips will require more thought and preparation in order for them to be executed without a hitch.

In order to make that process easier, we've gathered the following six tips to ensure your next family vacation is a success. Your forward thinking and proactive planning will pay off in dividends when everyone's happy on your trip — there's no better reward than that.

Here's how to do it:
1. Make Travel as Simple as Possible
When you're traveling solo, it's easy for you to kill time on a layover. You might crack open a book, grab a drink or window shop in the airport mall. With kids, though, the hours between flights can be rough on everyone — boredom and tiredness are a rough combination, especially for little ones.
So, as you plan your family vacation, make your travel plans as simple as possible: it might be worth it to pay for direct flights, for example. Or, if you're
planning a family road trip
, consider the amount of time your kids can handle the car each day and reserve hotels in between accordingly. That way, everyone can rest up in a proper bed before the next day of travel — and you won't have to worry about driving any grumpy kiddos around.
2. Don't Pack Lightly — Pack Smart
As a parent, you probably already know this, but it's worth mentioning: bringing kids on vacation means you'll have to bring all the stuff they need on a day-to-day basis. And, because you're not home, the list of
things you'll need to successfully travel with kids
is longer. Along with clothes, snacks and toys, you'll want hand wipes for any unexpected messes, and empty plastic bags to hold any soiled clothing. Don't forget headphones and other in-car or in-flight entertainment they need, either.
Still, you don't need to bring your entire home with you when you travel. Unless you're going somewhere remote, you'll be able to buy back-up items if you have an unexpected change of plans, weather, etc.
3. Unpack Your Itinerary
Again, as a solo traveler and tourist, you're probably used to filling your days with sight after sight. By nightfall, you're completely exhausted and ready to fall into bed, but you feel accomplished because you saw everything you could on vacation.
Now, as a parent traveling with kids, you should make your itineraries a little less jam-packed. A good rule of thumb is to plan your schedule in a way that you think would work for you and your kids — and then remove one to-do from each day's list of activities. That's because you're probably underestimating the amount of time it takes kids to get from point A to point B, or the unexpected stops you'll have to make for the bathroom, for food, etc.
4. Stick to Your Regular Routine
Obviously, you won't be home, so your routine won't look exactly the same. However, in order to ensure your kids have a cheerful, energetic vacation, you should try and keep them on a similar schedule to what they follow at home.
Parents already know
the value of creating a routine
for their children. It helps them to eat at the right time — and to eat a more balanced diet — and lulls them into a restful sleep at night. Even though you're not home, you can still eat and sleep at the same times as you normally would — it's up to you to make sure that happens so everyone's at their best on vacation.
5. Choose Comfortable Lodgings
A short weekend jaunt can easily be spent in a hotel; however, longer family vacations might be better suited for a home or apartment rental. Whether you need to throw a load of laundry on or you'd rather cook than take your entire family out to dinner, you'll have all the resources you need at a home rental. Plus, your kids will probably feel more comfortable sleeping in a normal home than in a single hotel room.
6. When All Else Fails, Hit the Pool (or Lake or Beach or Water Park)
This is an especially important tip for families with little ones who might tire of sightseeing. If you're feeling exhausted or if you run out of things to do or even if one kid gets sick and has to stay in, you can just about save any day of your trip with swimming. Put everyone in suits and head to the hotel's indoor pool or find a local water park, beach or other swimming facility and relax. It works wonders and makes for a fun day no matter what the circumstances are.
Now, Get Out of Town
Heading off on a family vacation might seem like a daunting process, especially if your kids are young and used to staying in their hometown. However, the rewards that come from expanding their horizons — especially at a young age — make it all worth it. So, sit down and start planning for your next family vacation: with your thoughtful effort, you can only expect it to be a success for everyone.