Ulstein Debuts DP Construction Vessel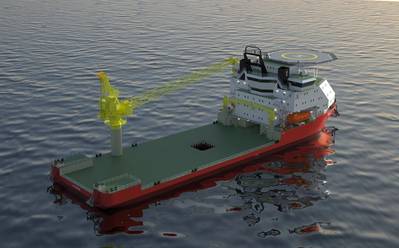 With the ULSTEIN S182 design, ULSTEIN introduces a new dynamically positioned multipurpose construction vessel suitable for shallow water operations. Main design driver was to develop a very CAPEX friendly DP vessel with good capabilities to support various offshore operations, including cable lay and offshore construction.
The vessel offers a combination of deck area, accommodation and station keeping capability for a compact vessel, its developers noted, adding this results in a very cost efficient platform capable of supporting a variety of operations, including cable laying, offshore construction, shallow water installation, dive support, rock installation and salvage work.
The mooring and DP2 (optionally DP3) station keeping capability, in combination with the large endurance and adequate transit speed, ensure that the ULSTEIN S182 can operate autonomously in remote shallow water and offshore areas, Ulstein said.
"Given the CAPEX target that we have set ourselves, we decided that speed will be a result of the design rather than a design driver as it is in most designs," said Edwin van Leeuwen, Managing Director at Ulstein Design & Solutions B.V. "Speed requirements often have a big impact on installed power, easily spiraling up vessel CAPEX."
ULSTEIN has been able to develop a versatile workhorse capable of shallow water DP operations (at 4.5 meter draft) including beaching. She features a large and strong open work deck suitable to accommodate up to 30 meter ø carousel, large cargo hold below deck and ca 10,000 DWT capacity. A main offshore crane of up to 400 tons can be located in the side of the vessel, while a passage way below main deck is created between aft casings and accommodation, a safety feature avoiding people having to cross the open work deck.
"As operational areas we mainly target South East Asia,
Middle East
and
Africa
, but the vessel will of course also be capable to work in the
North Sea
, where we see a good market for cable lay operations.'
Main dimensions:
Loa: 115.4 m
Beam (molded): 30.8 m
Depth: 8.4 m
Draught (operational): 5 m
Deadweight: ca 10,000 t
Speed: 9 kn
Installed power 2 x 2,880 kW; 2 x 1,920 kW
Positioning: DP2; 4-point mooring
Deck strength: 15 t/ m2
Deck space: 2,000 m2
Cargo hold: 850 m2
Complement: 140 p (2p cabins); 240 p (4p cabins)