Port of LA to Launch Container Ship Incentive Scheme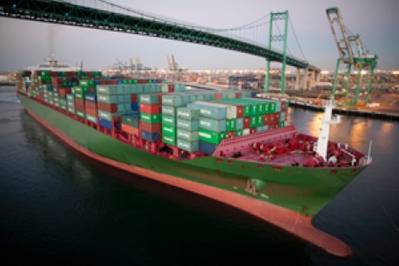 The Los Angeles Board of Harbor Commissioners has approved a new incentive program to reward shipping lines that bring new container business to the Port of Los Angeles in 2014. The Ocean Common Carrier Incentive Program adds to the advantages of moving cargo through America's No. 1 container port at a time when the fundamentals of shipping are changing and international carriers are rethinking traditional business practices.
Under the incentive program, an ocean carrier will earn $5 per 20-foot equivalent unit (TEU) for each incremental container it ships through the Port in calendar year 2014. The rate jumps to $15 per TEU for all TEUs, if a carrier's container volume grows by 100,000 or more units for the same 12-month period.

The baseline for measuring the increased volume will be the total number of containers each carrier moved through the Port in calendar year 2013. Carriers will receive their incentive in a lump-sum payment in early 2015. Port staff will monitor the program on a monthly basis to evaluate its effectiveness and whether to recommend its extension.

Separately, the Board also established a two-member ad hoc committee on Port Industrial and Economic Development dedicated to identifying and advancing the best economic practices for maintaining the Port's top position. Vice President David Arian and Commissioner Patricia Castellanos will serve on the ad hoc committee.