Containers Salvaged From Rena Wreck Number 1000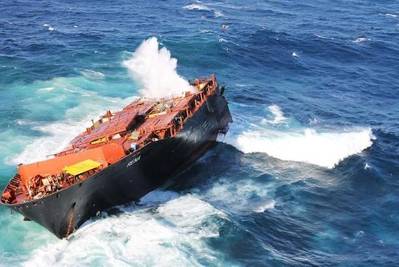 The Braemar Howells/Unimar latest update informs recovery milestone passed, there now remain 365 containers to recover.

A total of 1368 containers were onboard the Renawhen grounded on the Astrolabe Reef nearly on 5 October 2011.

Braemar Operations Manager Mike Richards says the milestone was reached this week after the positive identification of more container parts hauled up from the seabed at the wreck site. "We take our hats off to all those involved in the ongoing joint recovery effort – from the salvors, Braemar and Unimar staff, to Maritime New Zealand, support services companies, and many others."

Mr Richards says the work of identifying containers from numbers on scrap recovered has been a huge behind-the-scenes task in its own right, carried out by specialists in distressed cargo.

Meanwhile the wreck salvage operation by Resolve Salvage and Fire reports good progress continues to be made reducing the bow section – with in excess of 140 tonnes of steel removed over the last week, bringing the total up to 575 tonnes.