Joint Effort Pioneers Large LNG Containerships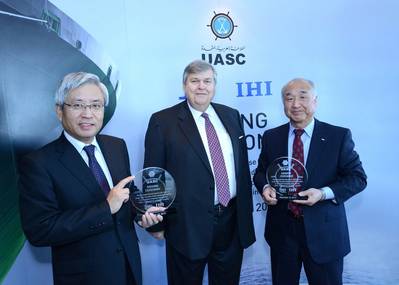 United Arab Shipping Company (UASC) will expand its fleet with new super-efficient container vessels, prepared for "dual fuel" through a later LNG Fuel Gas Supply System (FGSS) retrofit after the delivery of the vessels. Through a technical cooperation with Japan Marine United Corporation (JMU) and IHI Corporation (IHI), Hyundai Heavy Industries Co., Ltd. (HHI), the shipbuilder for UASC intends to obtain an Approval in Principle (AiP) from UASC's designated classification society, DNV-GL, for the FGSS and the LNG fuel tank. The AiP is intended to apply to UASC's current newbuilding order of five 14,000 TEU vessels with six options and five 18,000 TEU vessels with one option.

Dual fuel refers to ordinary fuel oil as well as Liquefied Natural Gas (LNG). LNG is a cleaner-burning, less expensive and real alternative to crudeoil products. The use of LNG has the potential to reduce CO2 by 30% and completely eliminate SO2 particles. The newbuilding vessels are designed to be constructed in such a way that LNG fuel tanks and the FGSS can be installed in a matter of weeks once the infrastructure is in place to enable LNG supplies in major ports of call for container vessels. The capability of being retro-fitted for LNG ensures that UASC vessels continue to remain the most advanced and environmentally-friendly ultra-large container vessels globally for many years to come. UASC is among the first vessel owners in the world to plan their newbuildings for LNG retro-fitting and is the first international long-haul container liner owner/operator to do so, demonstrating UASC's leadership in this area.

Recognizing that fuel costs as well as emission-related environmental considerations are extremely important factors in determining the profitability and carbon footprint of UASC's new vessels, HHI has partnered with JMU, a leading expert in maritime design, research, technology, and the license holder of the Self-supporting Prismatic-shape IMO type-B LNG Tank (IHI-SPB Tank) to engineer necessary provisions such as a conceptual design for a FGSS based on HHI's own FGSS model "Hi-GAS", which is appropriate for UASC's container vessels, and the design of the IHI-SPB Tank to be supplied by IHI at the time of the retrofit. The selected low pressure IHI-SPB Tank is unique and the volume of fuel that can be stored onboard is by far the greatest of any LNG-powered vessel to date. In order to realize the most efficient LNG storage and delivery system possible, UASC together with their long time Germany-based technical consultants, TECHNOLOG Services, have assessed a number of fuel delivery systems and tank types based on their total costs, complexity of preparation at the time of building, complexity at the time of retrofit, cargo loss (following retrofit), etc., taking into account both capital investment and operational costs.

The new ship designs, including the FGSS and the IHI-SPB Tank, are currently being finalized by HHI in cooperation with JMU and DNV-GL with deliveries scheduled between 2014 and 2016, including all options.

HHI, JMU and IHI laud UASC commitment to operate "green" vessels
To optimize energy efficiency and reduce fuel consumption, the ships underwent hull form optimization and received energy saving devices. UASC has invested for its operational profile in an optimized engine configuration with Waste Heat Recovery system, shaft generator/shaft motor and dual fuel auxiliaries controlled by PMS and an Integrated Vessel Control System with full permanent performance monitoring also from shore, thus reaching the lowest possible Energy Indexes. Simultaneously, cargo intake could be effectively increased to make these new vessels among the largest and most competitive in the market. Not only do these various investments pay off for UASC and its customers but they reduce the overall carbon footprint through reduced emissions produced by the Company as well as reducing demand for fossil fuels.