Diana Shipping Invests in Diana Containerships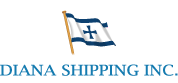 Diana Shipping Inc., a global shipping company specializing in the ownership of dry bulk vessels, has announced that it has entered into an agreement to purchase shares of the common stock of Diana Containerships Inc. for an aggregate purchase price of $40 million.
Concurrently with the company's investment, two institutional investors not affiliated with the company or Diana Containerships together purchased $40 million of common shares, and Simeon Palios, Chairman and Chief Executive Officer of the company and Diana Containerships, and a member of his family, along with other members of the Diana Containership's senior management, purchased an aggregate of $12 million of common shares. The transaction is subject to customary closing conditions and is expected to close on or prior to July 29, 2014.

The investment was approved by a committee of the independent members of its board of directors. The committee was advised by Global Hunter Securities LLC in connection with the transaction.