Port of LA Continues Zero Emissions Push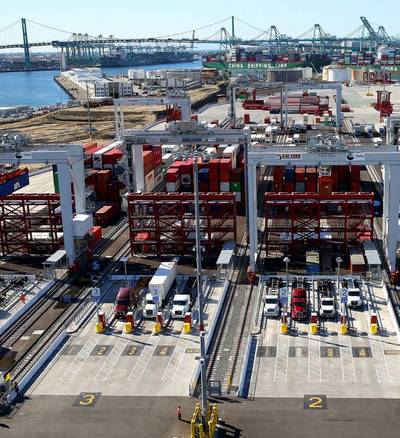 Draft Document Outlines Near-Term Plan for Expanded Testing and Development of Zero Emission Vehicles; Public Workshop to be Held July 29
The Port of Los Angeles has issued a draft white paper on zero emission technology that details the port's testing of zero emissions technology to date, and its proposed near-term plan for encouraging zero emission technology use in maritime goods movement, particularly as it relates to drayage trucks and yard tractors. By 2020, the port plans to facilitate testing and development of up to 200 zero emission vehicles.
"While we've made great strides in reducing emissions and greenhouse gas emissions over the last decade, the Port of Los Angeles continues to look for new opportunities to further cut pollutants, especially greenhouse gas," said Chris Cannon, Chief Sustainability Officer and Director of Environmental Management at the port. "We think zero emission technology in key operational sectors has strong potential to help us achieve these reductions."
Developed by the port's environmental management team the draft white paper outlines next steps regarding current and planned zero emission demonstration projects. It also includes recommendations for zero emission-related infrastructure planning, as well as strategies for pursuing local, state and federal funding for near-term zero emission equipment testing and for long-term capital investments and operations.