Kiel Port Growth Continues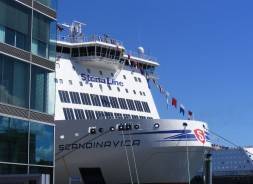 Cargo and passenger handling rise by 3%.

Handling in the Port of Kiel continued to grow in the first half of the year. A total of 3.24 million tons of cargo were handled in the first six months of 2014 which is an increase of 3% over the same period of last year. In the passenger sector, about 900,000 ferry and cruise ship passengers – a rise of 3.1% - embarked or disembarked. The main pillar of growth was once again ferry traffic, which accounted for 80% of all handling. Routes to and from Scandinavia recorded above-average development while services to the eastern Baltic were at about the same level as last year. Dr Dirk Claus, Managing Director of the Port of Kiel (SEEHAFEN KIEL GmbH & Co KG) said, "We can record overall positive development, but this is however being depressed by trade restrictions on Russia". Exports of foodstuffs to Russia have fallen off, while imports from Russia have been less affected due to a depreciated Rouble".


In the first half of 2014 not only ferry traffic increased in Kiel: the handling of bulk cargo rose as well. Along with fuel (coal), the turnover of building materials (gravel) in particular showed significant growth. This handling increase has been made possible by the expansion of the open-air storage depot in the port's Scheerhafen at the start of the year. "Road construction in Schleswig-Holstein continues to stimulate the handling of building materials in Kiel", added Dirk Claus. For example, expansion work is taking place on the A21 motorway and work on the A7 is about to begin. "This motorway expansion in turn is proving advantageous for the port", he said.


In hinterland transport, intermodal cargo traffic accounted for 12,245 ship-to-rail consignments in the first half of 2014. This is an increase of more than 1.8%. Kiel is currently connected to the entire national intermodal network by means of direct daily shuttle services with Hamburg-Billwerder. From there, direct train services link up with Duisburg-Rushford and transit the Alps to Verona in northern Italy. Dirk Claus said: "In order to be in a position to move even more cargo by rail, the marshalling yards at Kiel-Meimersdorf must now be renovated. As soon as the access rail tracks there have been expanded, the 700 m long cargo trains we need will be able to serve Kiel. At present we are restricted to trains of 500m length", he added.