Moray First Marine Continues to Grow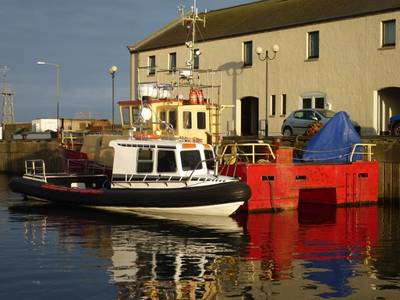 Moray First Marine based in Lossiemouth on the Moray Firth has recently seen the delivery of a second boat allowing them to take on a greater, more varied workload as they continue to grow in the marine industry.
The new vessel, MV Seeker, is a 9.5m Osprey Cabin rib MCA Category 3 licensed to carry up to twelve crew during the day and six at night up to 20 miles from safe haven and is capable of cruising at 20 – 25 knots.
The highly maneuverable and capable craft is available for both private and commercial charter across Scotland. The company already carries out a wide range of workboat and ROV services from their vessel MV Solstice ranging from geophysical and wildlife survey to personnel transfer and television work for documentary makers including the BBC and ITV. They are also very experienced working within both the oil and gas and offshore renewables supply chains servicing both sectors with work such as commercial dive support, ROV inspection, trialing and sampling.
Moray First Marine sees the arrival of MV Seeker as a great opportunity to offer their clients an improved service and greater options than the competition. Company director Bill Ruck, said 'the new boat will allow us to take on more work as well as a greater variety of work and with already a lot of interest in MV Seeker, 2012 looks as though it is going to be an exciting time for Moray First Marine.'