Air Lift Bag Contract Awarded to UHS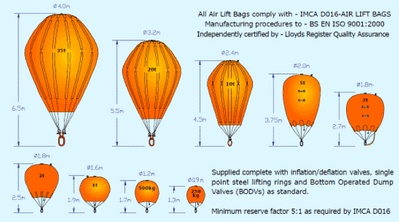 Mumbai-based Unique Hydrographic Systems (UHS) contracted to supply Seaflex air liftbags to Leighton Welspun.
The total value of the project is INR 37,35,066 (approx. US$ 70,000).
Seaflex is a specialist in marine air lift buoyancy bags and water load test weights. They provide products for two major areas: Air Lift Bags (ALBs) and Inflatable Buoyancy Units (IBUs) for the recovery of underwater objects and to provide underwater pipeline buoyancy and cable floatation.
Leighton Welspun mainly required Air Lift bags from 250 Kg to 5000 kg for a project of ONGC worth 14 billion rupees ($251.2 million) for the replacement of production and transportation infrastructure installed in the 1980s, extending the Mumbai High project's potential field life under pipeline replacement project PRP3.

Work on PRP 3 will start immediately and be completed by mid-2014, with the work to cover ONGC's Mumbai High and Heera Oil and Gas fields off India's west coast.

The scope of work includes installation of 31 subsea pipeline segments, both rigid and flexible, of various diameters up to 16 inches and totalling approximately 200 kilometres in length, as well as associated pipeline risers, platform topsides modifications, hook-up activities and testing, the company said. The project is the fifth from ONGC to be awarded to Leighton Welspun, taking the value of all work awarded to the company to over 50 billion rupees. Leighton holds a 65% stake in the Leighton Welspun joint venture.

Unique Hydrographic Systems Private Limited is a provider of a wide range of Diving Equipment, Accessories and Spares, Marine Equipment and Hydrographic Survey Equipment . Based in Navi Mumbai, they provide a complete range of specialized engineering solutions and services throughout the region.