Moose Boats wins Fire Boat Contract Award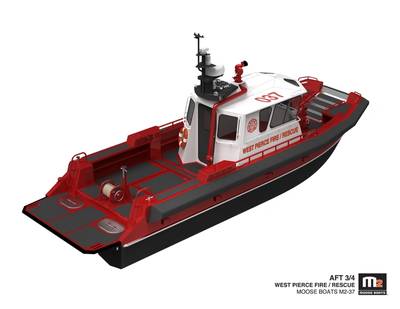 Moose Boats Announces Fire Boat Contract Award from West Pierce Fire and Rescue.
Moose Boats, a boat designer and manufacturer in the San Francisco Bay Area, has been awarded a new contract from West Pierce Fire and Rescue in University Place, WA for the construction of a M2-37 Catamaran Fire Rescue Boat.
The M2-37 is a 37'-0" aluminum catamaran powered by newly introduced twin Cummins 6.7ltr 425hp turbo diesels and is propelled by Hamilton 292 water jets. The vessel will provide West Pierce Fire and Rescue with fire fighting, rescue, dive and shore landing capabilities. This M2-37 features a unique fire pumping arrangement with dual 1,000GPM fire pumps, remote control fire monitor rated for 2,000GPM as well as a hydraulically operated bow door. The bow door arrangement will maximize the vessel's forward deck arrangement for emergency response and represents a new evolution in Moose Boat's overall engineering and design capabilities.

Moose Boats has constructed several fire fighting vessels for agencies throughout the United States including Tiburon Fire Rescue District and San Francisco Fire Department in California, Old Saybrook Fire Department in Connecticut, Lewes Fire Department in Delaware, Anne Arundel County in Maryland, Massport Fire/Rescue at Boston Logan Airport and Northport Fire Department in New York. Moose Boats currently has fire rescue vessels under construction for New Orleans Fire Department and Humboldt Bay Harbor in Eureka, Calfornia.