VARD Secures Contract for Havfisk Stern Trawler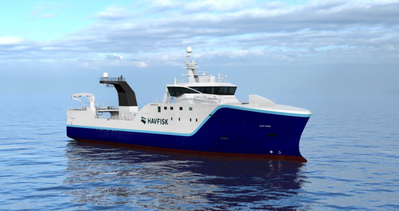 Vard Holdings Limited, a global designer and shipbuilder of offshore and specialized vessels, has announced that it has secured a new contract for the design and construction of one stern trawler for HAVFISK ASA. The contract value is approximately NOK 325 million.

The new vessel will be of VARD 8 02 design. With a length of 80 meters and featuring two separate cargo holds for refrigerated and frozen fish, a fish factory and a freezing capacity of 80 tons per 24 hours, the trawler will be the first of its kind.

Developed by Vard Design in Ålesund, the new vessel design reflects a high focus on safe operations, efficiency, cargo handling and the crew's wellbeing. The hull will be built at Vard Braila in Romania. Delivery of the vessel is scheduled from Vard Søviknes in Norway in 1Q 2018.

VARD has in the past developed a series of three fishing vessels for HAVFISK. Gadus Poseidon, Gadus Njord and Gadus Neptun were delivered in 2013 and 2014 respectively.

HAVFISK ASA is Norway's largest trawler company with a fleet of 10 vessels. The operations are primarily based on cod, haddock, shrimps and saithe fishing. All fish are headed and gutted onboard, and the company is able to provide fresh and frozen fish throughout the year. HAVFISK is headquartered in Ålesund, Norway, and listed on the Norwegian stock exchange.