SENER Presents at SNAME Convention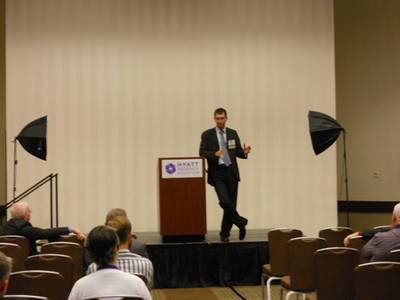 SENER presents the module for the ship General Arrangement definition in FORAN
SENER took part once again in the Annual Society of Naval Architects and Marine Engineers (SNAME) Convention in the U.S., this time in Houston from October 20-24.
Between the different activities during this event that congregates most part of the ship design and production community, it is organized the Ship production Symposium, with the aim of showing the most innovative innovations in this sector. SENER presented a work titled "The ultimate approach for general arrangement definition," written by Verónica Alonso and Rodrigo Pérez and presented by the latter.
The technical article describes the solution in the shipbuilding CAD/CAM FORAN, developed by SENER, for the definition and management of compartments in a ship or offshore unit. This module, FGA, is integrated with de hull forms, already generated, and later with the solution in FORAN related to naval architecture calculations and stability. All in an optimal solution for the basic design definition, with the great advantage of being defined in 3D at early design stages.
Compartment arrangement of a vessel is based on the definition of its spaces and each space is represented by its 3D model. In FORAN FGA the spaces are generated taken as reference the surfaces of the ship as well as auxiliary geometry, in a quick and flexible way; the possibility of creating spaces from 2D drawing in a specific definition environment makes it easier. The spaces contain further information than the geometric one, been able to set different user attributes to them or to their limits. It is relevant that all data is stored in a single database, allowing the design control, the study of alternatives or the collaborative engineering from remote locations.
FGA incorporates a new functionality for the fast positioning of the main important equipment in the ship 3D model, in a location that will be reused in further stages for detail design and production.
Finally, this compartment arrangement is available for hydrostatic and stability calculations.