Shuttle Tanker Conversion to FSO Contract for Robert Allan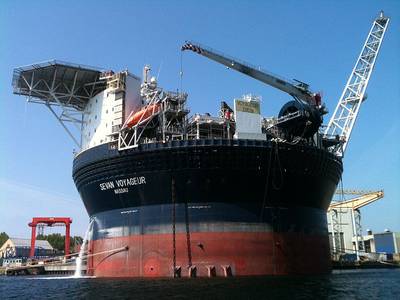 Robert Allan Ltd. says it has been selected by Teekay Shipping (Canada) Ltd. to provide the contract engineering package for the conversion of the M/V Navion Clipper from a shuttle tanker into a Floating Storage and Offloading (FSO) unit.

Scope of work
The scope of work from Robert Allan Ltd. includes the design of the crude oil export and import systems (turret design and supply by London Marine Consultants), a new helideck capable of landing a Sikorsky S61N helicopter, accommodation and systems modifications to suit an increased crew complement, produced water-handling and delivery systems, materials handling systems, offshore crane support structures, upgrades to the fire and foam system and safety systems, and on-going construction support services.

Background
Robert Allan explain that Teekay Offshore Partners LLP, a subsidiary of Teekay Corporation, was awarded a contract in 2013 to supply a FSO unit to the Bualuang Field in the Gulf of Thailand. The contract is for a 10-year charter, with extension options. The oilfield is operated by Salamander Energy and has been in production at this site since 2008.
About the FSO
The FSO System is designed to stay continuously moored on site for an initial period of up to fifteen years without dry-docking, and to withstand the 100-year storm environmental criteria.

With a storage capacity of 480,000 barrels, the FSO will be capable of accommodating peak production throughput of 20,000 barrels per day of Bualuang crude oil, while discharging at the rate of 20,000 barrels per hour simultaneously to a tanker from a stern-mounted offloading hose. It will have dedicated settling tanks and storage tanks.
The 228.9 m M/V Navion Clipper, is currently undergoing conversion work at Yui Lian Dockyards Limited in Shekou, China, and is expected to be in operation in the Gulf of Thailand later in 2014.