Seatrade Convicted for Scrapping Ships on Indian Beach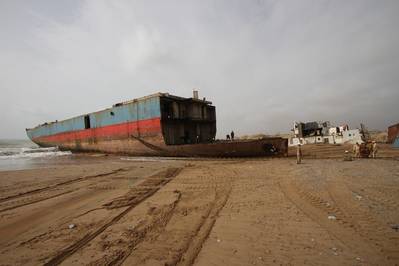 The Dutch shipping company Seatrade and two of its directors were found guilty by a Dutch court on Thursday of illegally sailing ships to India to have them demolished, the first criminal case of its kind in the Netherlands.
The company and the directors were fined up to 750,000 euros ($925,275). The directors were also banned from executive roles at any shipping company for a year. They did escape the prison sentences prosecutors had asked for.
The court said Seatrade had violated European Union rules by sending four ships to India for demolition in 2012. The ships ultimately ended up on beaches in India, Bangladesh and Turkey, where their dismantling polluted the environment and endangered the lives of the workers involved.
"It is common knowledge that beaching a ship and demolishing it at the spot pollutes water and air, while untrained workers lack the expertise to deal with dangerous materials", the court said. "These practices cause multiple deaths each year."
With demolition as their only destination, the ships were waste from the moment they left port at Rotterdam and Hamburg, the judges concluded. Their journey thereby violated rules banning the transport of waste from the EU to India.
Seatrade said it was disappointed with the verdict and indicated it would consider an appeal.
"There is surprise and disbelief over the fines and professional ban of two directors," spokesman Cor Radings said in a statement. "Seatrade would like to stress that recycling is an extremely challenging area for the international community as a whole."
Hundreds of ships end up on the beaches of India and other countries in the region each year. They are demolished by untrained workers who have no way to safely deal with the toxic waste the ships contain, like bunker fuels, acids and asbestos.
Rules adopted by the EU in 2013 mandate that ships registered in the EU must be recycled through approved facilities. But the rules contain loopholes, and the South Asian yards continue to dismantle old ships.
Activist group Shipbreaking Platform estimates 543 ships were broken down by hand on beaches in India, Pakistan and Bangladesh last year, amounting to 80 percent of all tonnage dismantled globally.
Dutch environmental group North Sea Foundation welcomed the verdict.
"It makes sense and we are especially happy with the precedent it sets, not only in the Netherlands but the whole of Europe", spokesman Merijn Hougee said.


($1 = 0.8106 euros)

(Reporting by Bart Meijer Editing by Larry King and Alison Williams)