Pronomar, ELA Cooperation Continues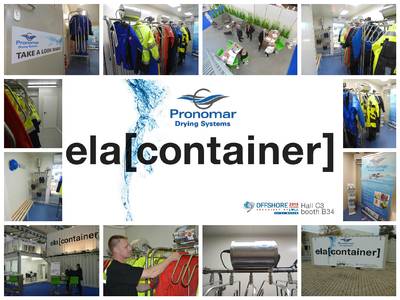 Drying container exhibited again on EWEA in Copenhagen
Following a collaboration at Offshore Energy in Amsterdam, the companies team up again for EWEA in Copenhagen,
Denmark from
March 10-12, 2015.
The ready-to-plug-in 20-foot offshore drying container will be showcased, including the installed Pronomar drying systems. The container is fully equipped and installed with drying systems for 20 work overalls, survival suits, jackets/trousers, splash suits, etc.; as well as drying panels for 20 work boots, shoes or gloves.
Pronomar said its drying equipment, made
from stainless steel
304 or seawater resistant steel 316 (special configuration for offshore purposes), will ensure work gear is dried from the inside out, within a short amount of time. The warm-air blower guides a flow of air through nozzles in the hangers into the clothing.