Large-scale Cooperation Between Metizoft and Polarcus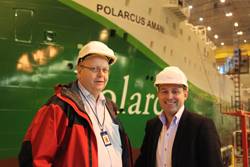 Metizoft AS and Polarcus has a close cooperation. For Polarcus two new buildings at Ulstein Shipyard, Metizoft deliver "Completion" to both of them. "Completion" is a document management platform and contains all the documentation for new buildings from the handover of the ship until scrapping of the vessel far in the future.
Metizoft`s role in addition to being the supplier of the database is the collection, categorization and review of the documentation.
According to Marketing Director in Metizoft, Øyvind Sundgot, the platform has the fastest "shore to ship access," and contribute in addition to being the fastest database that clients are having the highest quality assurance on all documentation. This may be specifications, contract documents, drawings, reports, analysis, manuals, certificates, etc.
'Historically, slow and expensive internet access is now being replaced by a shared document database, which means that the vessels have local access and downloading opportunities.You will save much time and money on" completion ", confirms Sundgot.
This cradle to grave documentation gives Polarcus outsourced electronic control on all documentation. Security is handled after a thorough evaluation of various server providers, and selected provider is used by many banking institutions. Safety and updates are taken care of by Metizoft in close cooperation with the customer. Metizoft have also delivered identical service for Polarcus six first vessels that came from Drydocks World Dubai, so the whole Polarcus fleet having are having "Completion". Completion is built according to the SFI structure, and is the ultimate tool for owner and crew.

You have access anytime and anywhere and you can easily use the web browser, or a PDA. The database's search engine makes it possible to quickly find the correct document. "Completion" is an open software technology, which avoids costly licensing agreements introduced by larger players. Sundgot adding that the platform is ready to be used for all new buildings."We use Metizoft`s database tool for safe storage and control of drawings and documents for all our ships, says Svein Johnny Naley. Naley is VP Marine Projects, adding that the crew is very happy because the database is quick and easy to search using the SFI structure. - "When everything is added to the database, this is a great tool," concludes Naley.
Metizoft is primarily known for its consistently green profile, and started to be the provider of the Green Passport / IHM to both new construction and sailing vessels. After the merger with Novomar in September, Metizoft now offer a more comprehensive service. In addition to Green Passport / IHM and "Completion", Metizoft have developed a software for MED (Marine Equipment Directive) and certificate validation. Metizoft`s department in Tomrefjord are also providing maritime advisors. Department of Tomrefjord can offer a high degree of expertise in the form of engineers, inspectors, managers, etc. One of the best examples of this was when Polarcus Samur had a major refit at Salthammer Båtbyggeri after delivery from the shipyard in Dubai. These alterations may occur in the shortest possible time, and here was Metizoft the preferred partner to Polarcus.

"The future is very exciting, and we can see that we are an interesting partner for the whole of the maritime cluster. Both design companies, ship owners, shipyards and suppliers are benefiting from our services, "concludes Sundgot.