Coronavirus-hit US Navy Destroyer Arrives in San Diego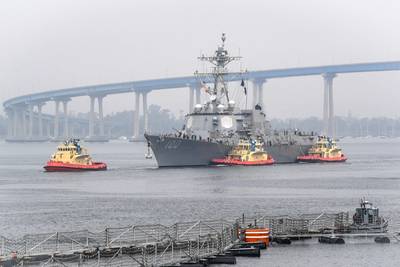 A U.S. Navy guided-missile destroyer with a coronavirus outbreak on board docked in San Diego Tuesday after cutting its mission short to administer medical care to affected sailors and disinfect the ship.
USS Kidd (DDG 100) was at sea participating in counter-narcotics operations when several sailors on board began exhibiting influenza-like symptoms. Two sailors were medevaced to the U.S. and a number of others were transferred to amphibious assault ship USS Makin Island (LHD 8) for closer observtion. USS Makin Island - with its robust medical facility, to include intensive care unit, ventilators and additional testing capability - had been redirected to rendezvous with the Kidd.
On April 23, medical personnel arrived on board USS Kidd to begin testing the crew for COVID-19.
USS Kidd's executive officer, Cmdr. Matt Noland, released a letter via social media to friends and family on April 24. In it, Noland wrote, "The Navy pulled out all the stops – specialist doctors have already arrived from the United States to test and help care for our shipmates."
In San Diego, all sailors will be isolated off-ship with twice-daily medical screenings. Crewmembers who have tested negative will enter quarantine for a period of observation, to include daily visits from military health professionals to monitor for symptoms. A small contingent of negative tested sailors will remain on the ship for essential services and deep-cleaning.
The ship will also undergo a strategic room-by-room deep-cleaning regimen that begins with spaces being vacated for seven days – four days longer than the minimum recommended by the CDC. The process is expected to take approximately two weeks, at which time the confirmed healthy sailors will return to the ship, and the off-going sailors will begin their quarantine.
USS Kidd sailors have been instructed to immediately report any symptoms to help prevent spread of the virus – an important lesson the Navy learned from USS Theodore Roosevelt sailors who were quarantined in Guam. Sailors who were screened for quarantine were asymptomatic, and several initially tested negative. Upon later developing symptoms, those sailors were able to be isolated and treated appropriately.
Theodore Roosevelt was in the Asia-Pacific region earlier this month when it was hit by a coronavirus outbreak, forcing the aircraft carrier to eventually dock in Guam. One sailor who was infected died, and nearly 850 out of the roughly 4,800 personnel on the ship have tested positive for COVID-19.
The Roosevelt's commander had called on Navy leadership to evacuate the vast majority of his crew and to disinfect the ship in a letter that leaked to the public and ultimately led to Captain Brett Crozier's firing and the resignation of acting Navy Secretary Thomas Modly.
As of Tuesday, the U.S. Navy had 1,691 cases of coronavirus among its sailors.