Carnival Corporation Makes Top Leadership Change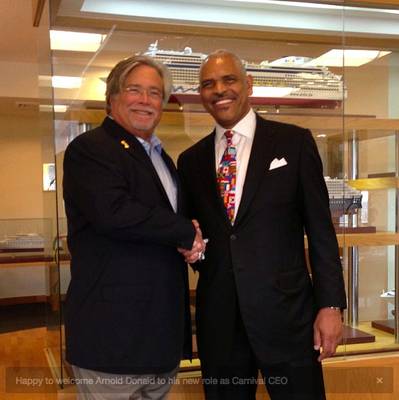 Carnival Corporation plan to split the roles of chairman and chief executive officer. Micky Arison will continue to serve as Chairman of the Board of the company and Arnold W. Donald, will assume the CEO role effective July 3.
Arison became CEO in 1979. At that time the company was privately held and operated three cruise ships under one brand, generating $44 million in revenues and carrying approximately 160,000 passengers a year. By 1987, Carnival Cruise Lines had become the world's largest cruise operator and Arison took the company public. Under Arison's leadership, Carnival Corporation & plc has grown to more than 100 ships, carrying 10 million passengers a year and generating more than $15 billion in annual revenues.
"I have been discussing this with the board for some time now and feel the timing is right to align our company with corporate governance best practices and turn over the reins after 34 years as CEO," said Arison. "Arnold is an exceptional professional with extensive experience in organizational leadership who will bring a fresh perspective to the company. I have come to value and rely on his judgment and insight during the 12 years he has served on the company's board and I am very confident in his ability to move the organization forward."

Arison added, "As chairman, I will still be working closely with Arnold to ensure a great future for all our stakeholders."