Costa Smeralda Delivery Delayed Again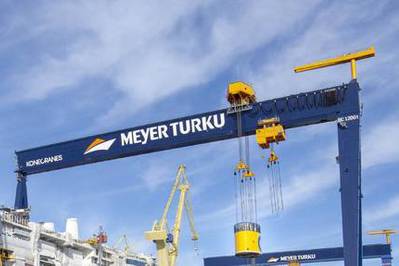 Finnish shipyard Meyer Turku announced it has encountered more delays in the construction of a 180,000 GT cruise ship for Costa Cruises.
Having already pushed back the delivery date from mid-October to mid-November, the shipbuilder said it now plans to hand over the newbuild Costa Smeralda in December 2019.
"The delay is due to the high complexity and the sheer size of the ship project," Meyer Turku said on Tuesday.
Costa Smeralda features a liquefied natural gas (LNG) propulsion system and many sophisticated rooms with stage and audio/video equipment, and is larger than the other ships recently built at the yard.
In March, Meyer Turku said welding operations sparked a fire to equipment stored on board the Costa Smeralda, but the indecent would not affect the delivery schedule.
Costa Smeralda is scheduled to enter into operation on December 21 sailing from Savona, Italy, the shipbuilder said.
Meyer Turku is also currently building Costa Toscana for Costa Cruises, slated for delivery in 2021.
The Costa Group has seven new ships scheduled to enter service by 2023.