Countries Push for CO2 Shipping Levy as Crunch Talks Loom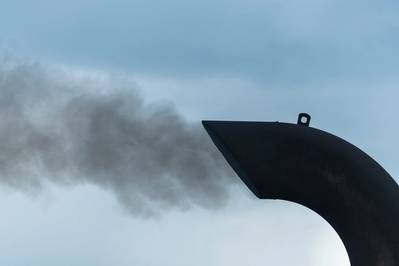 Maritime nations including Denmark and the Marshall Islands are rallying support for a global carbon dioxide emissions levy on shipping, with talks at a critical stage ahead of a U.N. agency meeting next month that could back the measure.
The levy could provide funds to help countries cope with climate change and help curb emissions from shipping - a sector that transports about 90% of world trade and accounts for nearly 3% of global CO2 emissions, but whose international nature means it often avoids national CO2-cutting regulations.
Member countries of the U.N. shipping agency, the International Maritime Organization (IMO), may agree to work on a CO2 levy at a July 3-7 meeting.
Various proposals have been submitted, from European Union countries, the Marshall Islands, Solomon Islands and others.
If countries agree next month to move ahead with the tax, details like the CO2 price level and how the revenues are spent would be negotiated in the following year or two, delegates say.
"Right now, it is not clear if any of the proposals will be taken forward, unfortunately," Dan Jørgensen, Denmark's global climate policy minister, told Reuters. "We need to find ways of compromising so that we can get all on board."
France has also been building support among countries at a finance summit in Paris this week. Avinash Persaud, special envoy to Barbados Prime Minister Mia Mottley, told Reuters he was aware of more than 20 countries now backing the shipping levy.
Large ship-owning nations Greece and Japan are also on board. The IMO prefers to take decisions by consensus, but can do so with majority support.
It is unclear which countries are likely to oppose a levy although a group of nations including India, Brazil, Saudi Arabia and China have not backed previous proposals for more ambitious IMO climate targets, according to campaigners.
Failure to reach an agreement on a levy would set back efforts to accelerate decarbonization in shipping, which requires investment in low-carbon fuels and port infrastructure.
One proposal, from Pacific Island nations, would apply a $100 per-tonne-of-CO2 fee to all international shipping voyages from 2025. Revenues raised would go towards helping countries cope with increasingly extreme weather disasters, as well as investments in low-carbon shipping technologies.
"The Pacific is pushing for a majority of the revenue to support the most climate vulnerable in responding to climate change," the Marshall Islands' envoy Albon Ishoda said.
A CO2 price on international shipping could raise an average of $40 to $60 billion per year from 2025-2050, according to World Bank estimates.
Ireland, another supporter, wants funds from the levy to address the irreversible destruction climate change is inflicting on poorer countries. "Everyone agrees it can't all come from donations, grants, philanthropy," said Irish climate minister Eamon Ryan.
The IMO has pledged to halve greenhouse gas emissions from ships by 2050, from 2008 levels - a commitment that lags EU and U.S. plans to reach zero net emissions by that date.
(Reuters - Reporting by Jonathan Saul, Kate Abnett; additional reporting by Simon Jessop;Editing by Elaine Hardcastle)