Crewboat for LNG Offshore Plant Launched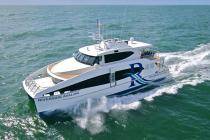 Crewboat 'River Avalon' launched for incat Crowther
Incat Crowther announce the launch of a 24m Catamaran Ferry constructed by Marine Engineering Consultants. Based on the successful Fantasea Sunrise (launched in 2011), Riverside Avalon is the first of three vessels contracted by Riverside Marine to ferry construction workers to the QCLNG project on Curtis Island.
As delivered, Riverside Avalon carries 246 passengers over two decks, with seats are arranged in forward facing rows. Vessel boarding is via folding ramps midships and aft on both sides. These ramps are designed to interact with the ferry terminal pontoons in Gladstone and on Curtis Island to allow much faster turn around times and ease of berthing operations for crew.
This vessel has an array of features that are designed to give the vessel a second life upon conclusion of operation at the QCLNG plant.