Marcon Broker Crowley Push-Tug Sale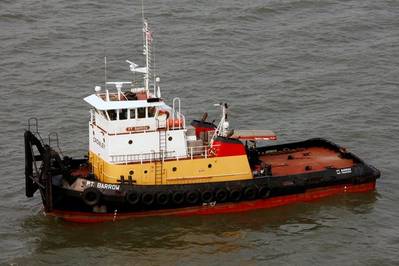 Marcon International, Inc. has brokered the sale of another tug from Crowley Marine Services, Inc. to Island Tug & Barge Co., of Seattle, Washington.
Marcon inform thatt the sale of the ABS +A1, Towing, +AMS classed, 2,100BHP shallow draft ocean towing / push tug "Pt. Barrow" closed during the 3rd week of July, 2013, adding that the tug is already getting a fresh paint job with ITB's colors with her new name "Island Wind", and she will promptly be again underway, this time working for her new owner.
"Pt. Barrow" was originally designed and built to work in the Arctic, where Crowley needed tugs designed to perform both ocean and coastal towing in shallow waters around Prudhoe Bay while pushing barges.

Her principal dimensions are 90' x 32' with a depth of 11.2' and a light draft of 6.0'. Her normal operating draft is about 8.5' when loaded with fuel. The triple deck tug was one of three sister-tugs in the "Point Class" built in 1982 for Crowley by Dakota Creek Industries of Anacortes, Washington. While the hull is of all welded steel construction, her superstructure is aluminum.

She is powered by a pair of CAT3512 diesels which provide about 2,110BHP to fixed pitch propellers in kort nozzles through Twin Disc 6.18:1 gears. "Pt. Barrow" is also fitted with shaft brakes, and has steering rudders and flanking rudders for added maneuverability while pushing ahead. Her bollard pull is about 23.5 short tons.

Towing gear consists of a single drum Smatco winch with a capacity of about 1,900' 1.75" wire. She is also fitted with a stern roller aft and two hydraulic barges winches forward plus push knees. "Pt. Barrow" packs about 60,000 gallons of diesel fuel which gives her a decent coastwise towing range.

To date, Marcon say they have concluded a total of 14 sales and charters this year. Several additional transactions are pending and expected to close within thenext week.