100+ Cruise Ships to call in at Rotterdam in 2019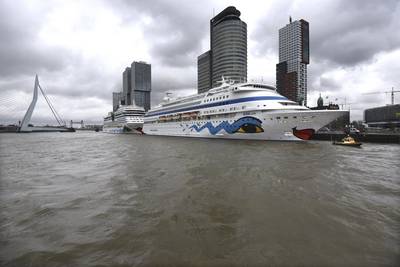 AIDA Cara opened the Cruiseport Rotterdam cruise season yesterday (March 07) as the vessel arrived at 07.30 hours at the Holland Amerikakade, right next to the AIDA Mar in the heart of Rotterdam.

"This year, for the first time, over 100 cruise ships will call in at Rotterdam. Around 80 cruise ships per year arrived over the past two seasons," said Port of Rotterdam Authority.

"For twelve cruise ships, this will be their first visit to Rotterdam. High points will include the arrival of MS Costa Mediterranea on 6 May, MS Costa Smeralda on 22 October (the second cruise ship ever to sail on LNG) and MS MSC Grandiosa on 4 November. And not to forget the regular visitors with various vessels from AIDA, Cruise & Maritime Voyages and MSC Cruises," it added.

Holland America Line will be represented this year, naturally, by MS Rotterdam and MS Zuiderdam.

"We are proud of this steady development. The cruising industry is important to the city's economy and, thankfully, is rapidly improving its green credentials. There is a lot of constructive progress and we are consulting on this topic with cruise companies, the Port Authority and the municipality. This collaboration is actually unique," said Mai Elmar, Director of Cruiseport Rotterdam.

"We're delighted to offer two AIDA vessels the honour of opening the Rotterdam cruise season on 7 March. With their "green cruising" concept and the launch of the AIDA Nova - the first LNG-powered cruise ship - this Germany shipping company is setting the tone for further sustainability innovations in the cruising industry. For German cruise lovers, at just two hours' drive from Aachen, Cologne or Düsseldorf, our port is actually the cruise port of choice for this area," Elmar added.