Five P&O Cruise Ships Meet in Sydney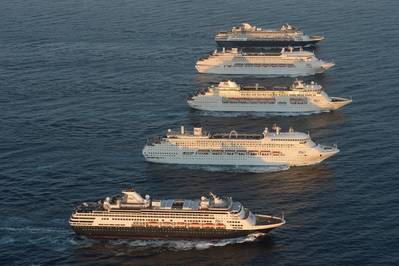 Sydney is the stage for the biggest get-together of a fleet of cruise ships ever seen in the harbor city.
Five P&O cruise ships have created a V-formation at sea then sailed toward Sydney abreast in a single line, to celebrate the fleet's newest additions, the Pacific ARIA and Pacific EDEN.
Just before sunrise, Pacific Dawn, Jewel, Pearl and today's additions to the cruise line, Aria and Eden, created a V formation before sailing abreast in one line toward the city.
The special occasion celebrated the arrival of Pacific Aria and Pacific Eden, two former
Holland America vessels
, which were relaunched in a world-first social media naming ceremony, attended by Carnival Corporation CEO and
president Arnold Donald
, and CEO of Carnival Australia, Ann Sherry.
The two godmothers - local singer Jessica Mauboy and actress Kate Ritchie - simultaneously named the ships.
Ann Sherry, CEO of Carnival Australia, which operates P&O Cruises, said the event marked a new era for P&O, Australia's only homegrown cruise line.
"The addition of Pacific Aria and Pacific Eden represents a 50% expansion in our guest capacity and heralds a new look and feel for our cruise line, inspired by
modern Australia
," she said.