Baltic Index Drops as Cyclone Dampens Demand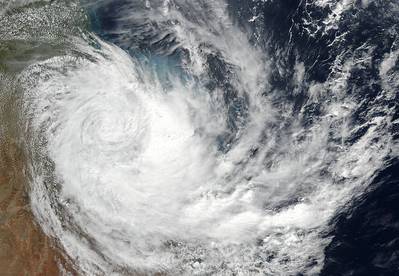 The Baltic Exchange's main sea freight index, tracking rates for ships carrying dry bulk commodities, fell on Friday as closure of mines and ports in Australia due to a cyclone weighed on demand for capesize vessels.

Cyclone Debbie, which struck Queensland this week, caused extensive flooding and social disruption and dampened chartering activity after coal mines were closed.

The overall index, which factors in rates for capesize, panamax, supramax and handysize shipping vessels, fell 27 points, or 2 percent, to 1,297 points. The index on Wednesday hit its highest level since Nov. 11, 2014.

However, the broader index is up nearly 5 percent this week, its seventh straight week of gains.

The capesize index fell 93 points, or 3.5 percent, to 2,597 points, its worst one-day percentage drop in just over a month. The index had surged to its highest level in more than two years on Tuesday.

Average daily earnings for capesizes, which typically transport 150,000-tonne cargoes such as iron ore and coal, fell $1,037 to $18,864.

"Capesize dry bulkers remain under some pressure to close the week due to limited activity in the market, further softened by Cyclone Debbie's lingering effects on some ports in eastern Australia," Clarksons Platou Securities analysts said in a note.

The panamax index rose 8 points to 1,374 points.

Average daily earnings for panamaxes, which usually carry coal or grain cargoes of about 60,000 to 70,000 tonnes, were up $64 to $11,025.

An increase in iron ore and coal shipments to China, owing to the country's curbs on production, and ramping up of output in Australia and Brazil have helped average spot rates and the Baltic index touch multi-year highs.

Iron ore shipments account for around a third of seaborne volumes on the larger capesizes. As a result, iron ore price movements are a key factor for the dry freight sector.

Freight rates for large capesize dry cargo vessels on key Asian routes could climb further on increased chartered activity by miners and operators, brokers said.

However, they expect some impact due to mine and port shutdowns in Australia.

Among smaller vessels, the supramax index was down 1 point at 881 points, while the handysize index rose 1 point to 540 points.
(Reporting By Nallur Sethuraman in Bengaluru)